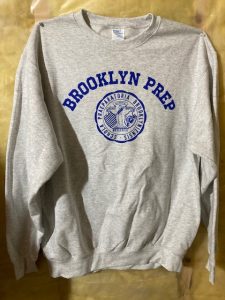 Sweatshirts: Crew - Long Sleeve
Mediumweight
Varsity Lettering - Brooklyn Prep lettering arched above BP seal
Colors: Ash Grey with Royal Blue print.
Adult Sizes: S, M, L, XL, and XXL
Prices: $35 each, 2/$65, 3/$95, 4/$125
Add $10 for XXL
Sweatshirts: Hooded - Long Sleeve
Mediumweight
Brooklyn arched above Eagle in flight, Prep below Eagle
Colors: Navy with White print.
Adult Sizes: S, M, L, XL, XXL, XXXL
Prices: 1/$50, 2/$98, 3/$148, 4/$184.
Add $10 for XXL, XXXL.
Coffee Mugs - Limited Edition
White 11oz mug with BP seal
Price: 1/$15, 2/$28, 3/$39, 4/$48,5/$55, 6/$60
T Shirts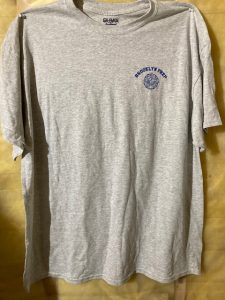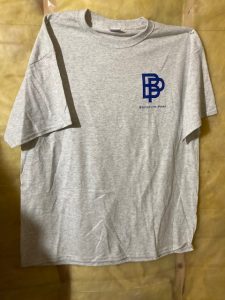 T Shirts - Available in 4 styles/colors
1 - White - BP name and seal
2 - Royal - BP name and seal
3 - Grey - BP name under letters
4 - Grey - BP name over seal -Limited stock
Sizes: S, M, L, XL, XXL, XXXL
Price: $20 each
$25 for XXL, XXXL
Lapel Pin - Tie Tack
Limited stock
Clasp back, approx. 1 inch diameter.
Blue and silver, features BP in blue arched above and below seal.
Wear on lapel, hat, jacket, or as tie tack.
Price: $5 each, 5 for $20
Baseball Cap: Limited stock
Navy - Embroidered BP logo and lettering. $25
Varsity Jacket - you can now order a single jacket!
White leather sleeves, royal wool body. Lettering and embroidering on front and back of jacket
Contact Mark for price, details and to place your order.